When it comes to the most popular bathrooms of 2015, there are plenty of trends to talk about. Some old, some new, some borrowed, some navy blue. Obviously, tile played a big role "porcelain that looked like hardwood planks, hexagonal tiles that grew in size, more 3-D patterns than ever, and an old favorite, subway tiles, which showed no sign of going away anytime soon. Materials like teak, brass, reclaimed wood, pebbles, marble, quartz and concrete were big picks as well. Other than that, the most popular bathrooms featured a wide range of styles and sizes"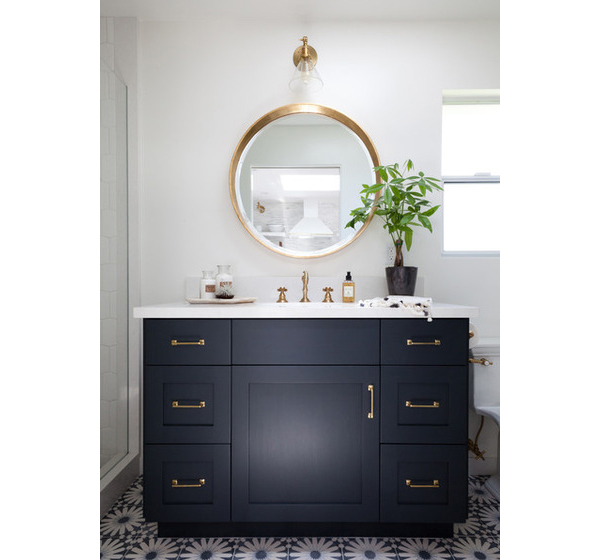 Brass hardware
Brass made its way back not only into the kitchen, but also the bath. The warm finish brightened up many of the popular bathrooms. In this room, we can see that deep navy is a swell pairing for brass, making a crisp nod to nautical without going overboard.
Another 2015 trend worth noting is the use of encaustic cement floor tile, which has found its way from Mediterranean- and Moroccan-style homes into all sorts of spaces. Its vibrant patterns, which are also turning up on ceramic tiles, offer designers a chance to make a big impact underfoot.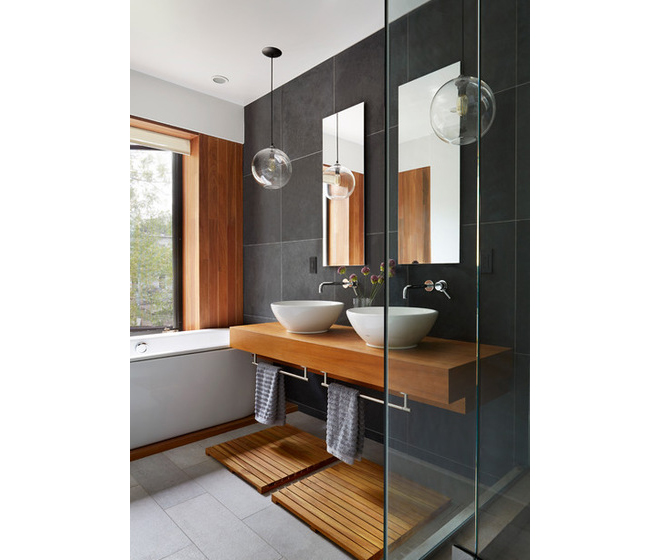 Teak
In this bathroom, a vanity made of teak veneer plywood adds warmth and heft while standing up to moisture. Coordinating mats under the counter, a platform under the tub and accents on the wall tie the room together.
Farmhouse style
Owners were drawn to details like stained-wood vanities and mirrors, tongue-and-groove or beadboard paneling and other homespun touches.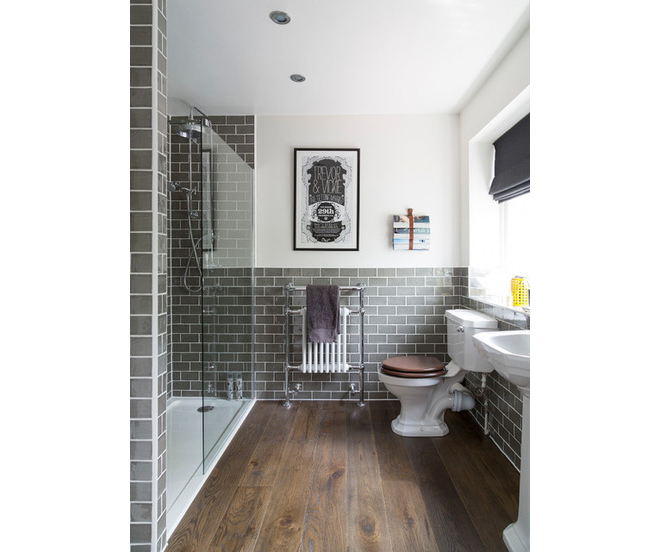 Vintage-modern mix
Also popular were nostalgic vintage touches like pedestal sinks, subway tile and even wood toilet seats, though homeowners balanced them with elements such as clean lines and frameless clear shower enclosures. Engineered oak floors enhanced the look.
In this bathroom, a framed tea towel made from the homeowners wedding invitation adds a personal touch.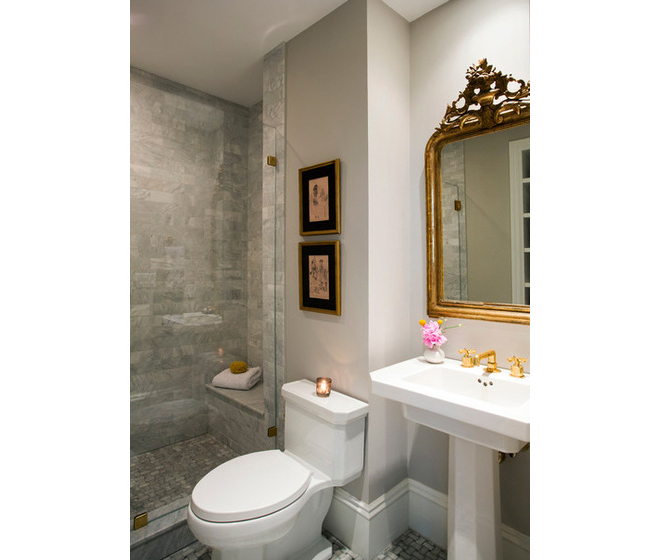 Eclectic touches
The mirror is a wonderful opportunity to add unique style to the bathroom. In this renovated Boston brownstone, an antique French mirror steals the spotlight, and brass faucets and frames pick up on its warm gold finish. Carrara marble adds elegance, while clear glass makes the room feel larger.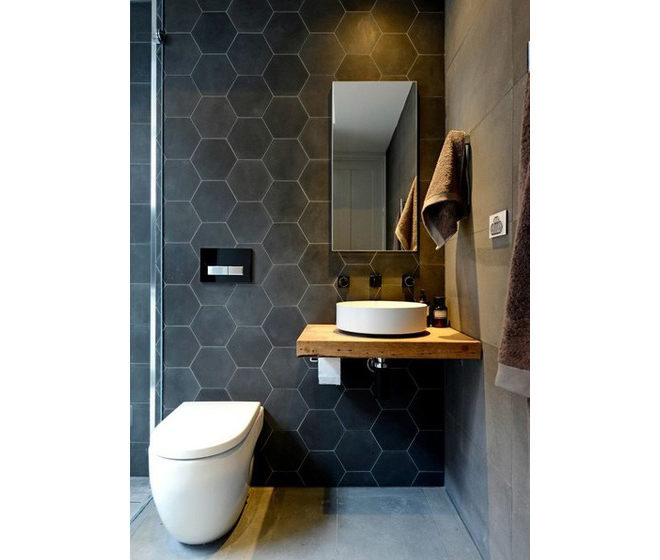 Large hexagonal tiles
Hex tiles blew up this year, literally and figuratively. We saw 6-to-9-inch versions bringing in a modern look as they spread across floors and up the walls of many bathrooms. The tiles add pattern through their honeycomb-like compositions.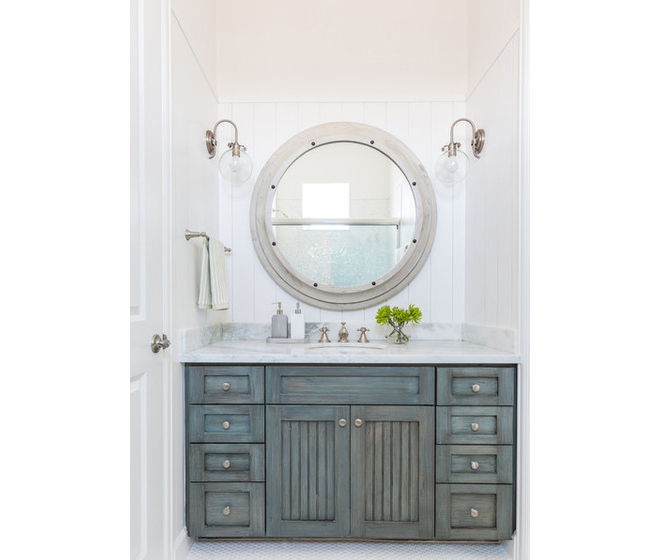 Chic coastal style
Designers went more subtle when going for coastal style. Rather than creating a shell-a-palooza, elements like distressed paint, driftwood tones and shiplap brought in the beach. In this beach house bathroom, the team at Laura U used an oversized porthole mirror as an intriguing focal point.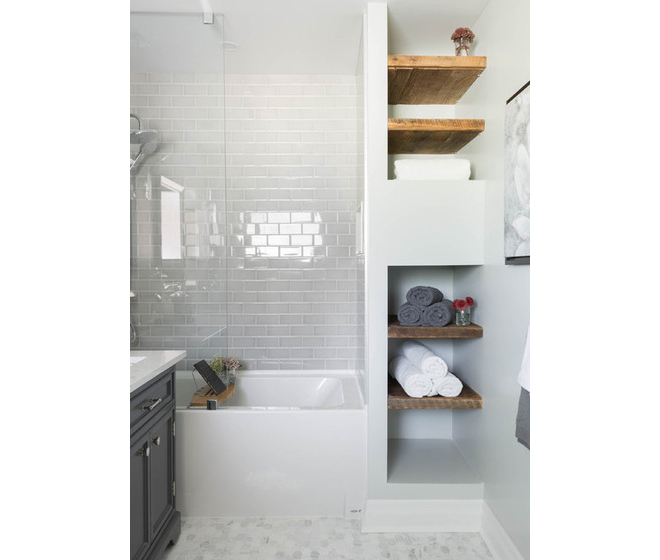 Shades of gray
Gray remained one of the top color choices for bathrooms in 2015. All sorts of variations on it were used hand in hand with another popular element, Carrara marble tile. Designers paired the beautiful gray veins in the marble with gray tiles in the bath.
Another great design move worth noting in this bathroom is the open shelving made of reclaimed wood. There wasn't room for a closet door, and cabinet doors would have been awkward in this space.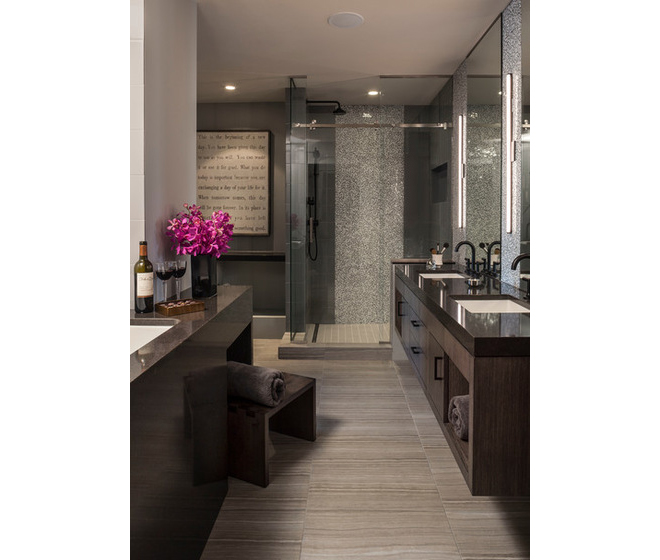 Cantilevered vanities
Vanities mounted to the wall free up floor space and make a room feel bigger. Note the way they let more of the large-format tile cover the floor of this room; had the vanity on the right extended to the floor, the scale would not have been as successful.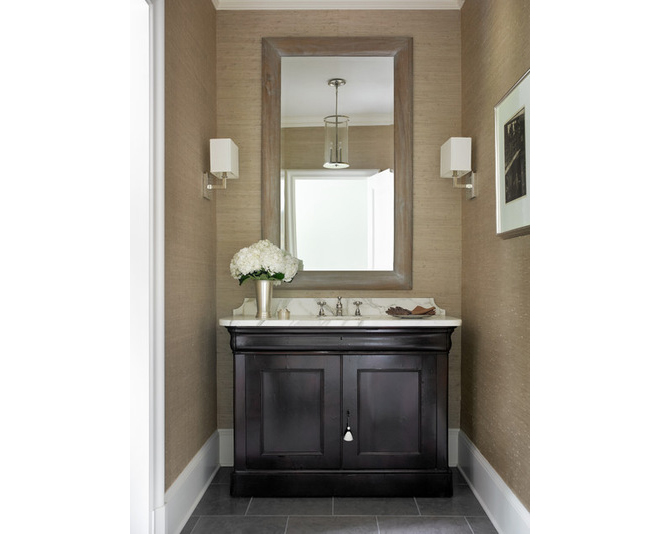 Antique and repurposed vanities
Clients loved the idea of adding personal style by using antique vanities or repurposing unique pieces to serve as the vanity.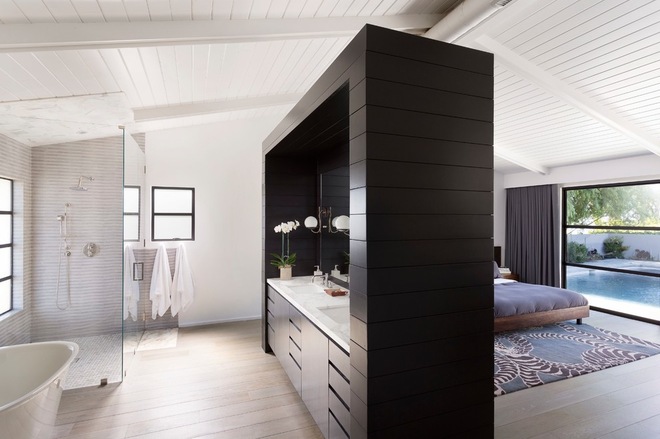 Open-concept master suites
This was a controversial topic for clients,but one that many embraced. There are several key factors to keep in mind when choosing this option. For one thing, make sure you have a separate water closet for the loo, as well as the same wake-up time as your partner so you're not banging around in the bath while they're trying to sleep. Ventilation for the steam is also important.
For their bedroom, designer Ryan Brown and partner Diego Monchamp were inspired by a hotel they visited in Thailand. Brown designed a large tongue-and-groove room divider that separates the spaces while maintaining an open luxury spa feeling.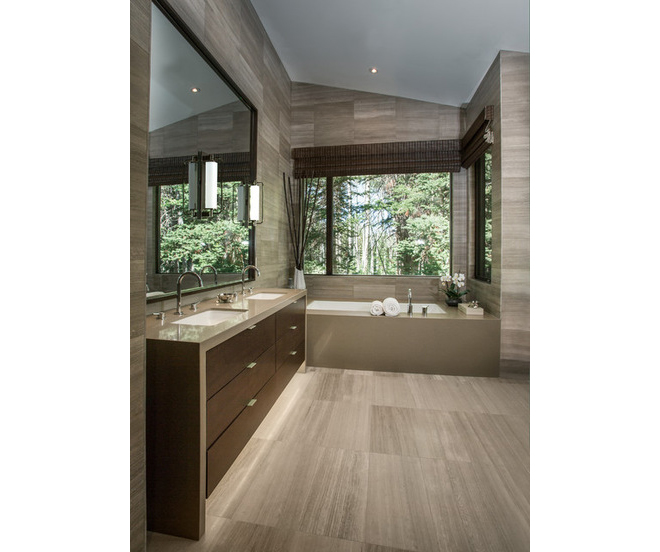 Floor-to-ceiling tile
Perhaps it was the growing popularity of wet rooms that inspired this trend. The room seen here extends vein-cut honed Haisa marble tile across the floor and up the walls for a luxe look.
Other trends of 2015 can also be seen in this bathroom: the lighting underneath the vanity and the waterfall countertop that wraps around it.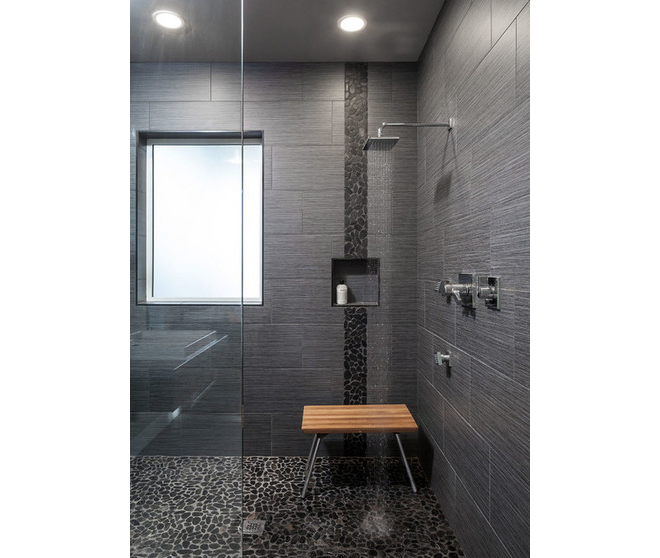 Dark and moody
While spa-like,light and airy and bright were terms we could (and often did) use to describe many of the most popular bathrooms. Black bathrooms, medium to charcoal grays as well as deep chocolate browns were very popular with this year.
Another popular feature, seen in this room, was pebble tile on the shower floor. It adds a unique, natural-looking touch and feels great under the feet.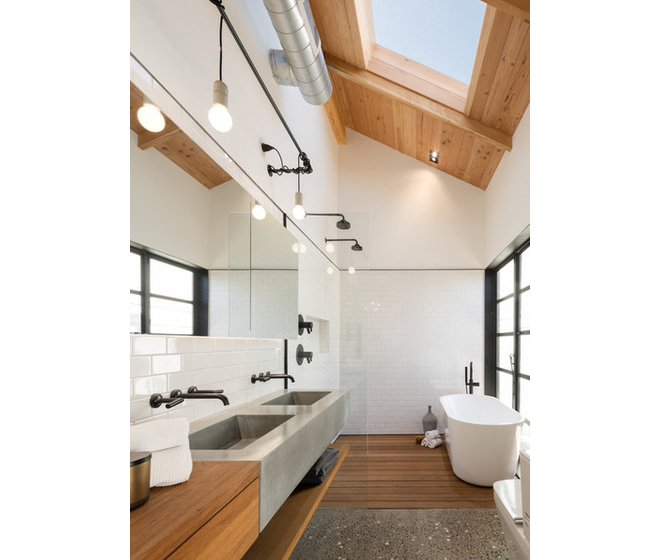 Concrete sinks
Clients also loved the industrial look of concrete. In this bathroom, the sink's trough-like shape, the hanging bulb lights and the aluminum-clad windows emphasize the look, while beautiful teak wood adds warmth. Another trend on display here is the space-saving move of placing the bathtub and shower in one open area. After all, it doesn't matter if the tub gets wet.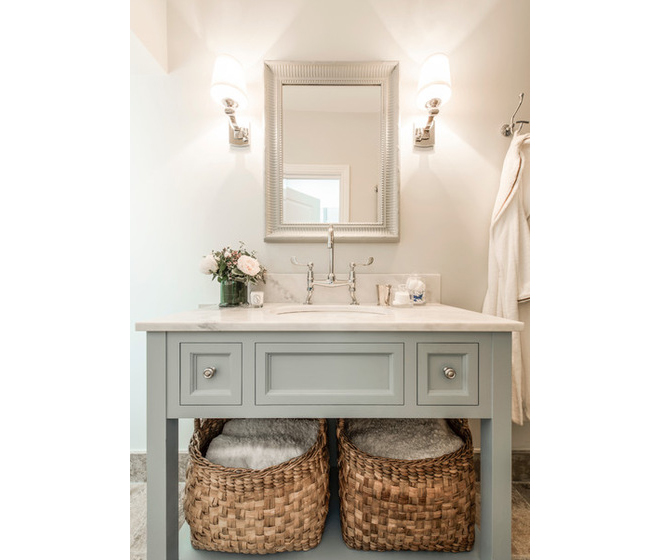 Open vanities
Things can have a more open look without getting messy. This furniture-like piece adds style to the bathroom and keeps a tight space feeling more open. Neat piles or rolls of towels and pretty baskets help corral things underneath. If you do opt for open, you'll need to pay attention to the look of the sink's p-trap underneath since it will be exposed.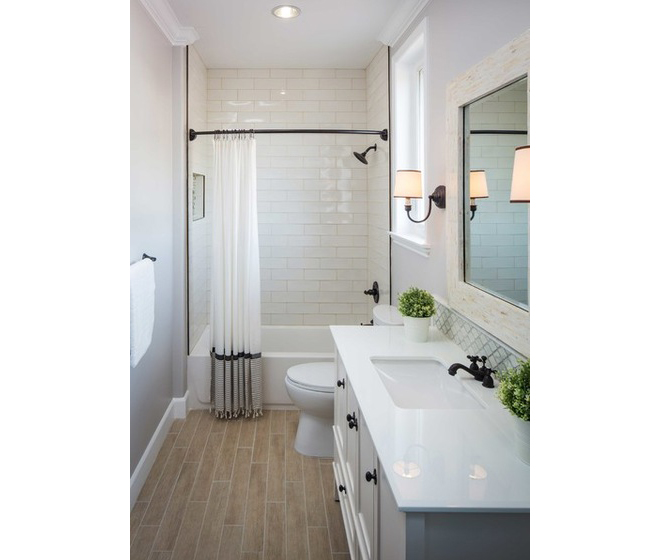 Porcelain floor tiles that resemble hardwood
While we also saw hardwood floors in some of the most popular baths, many homeowners opted for digitally printed porcelain tiles in long, narrow planks that add the colors and even the grain of wood in a more durable, wipeable material.
This bathroom is modestly sized at just 5 by 12 feet, something most of us can relate to. The long tile planks help emphasize the length and suit the room's scale.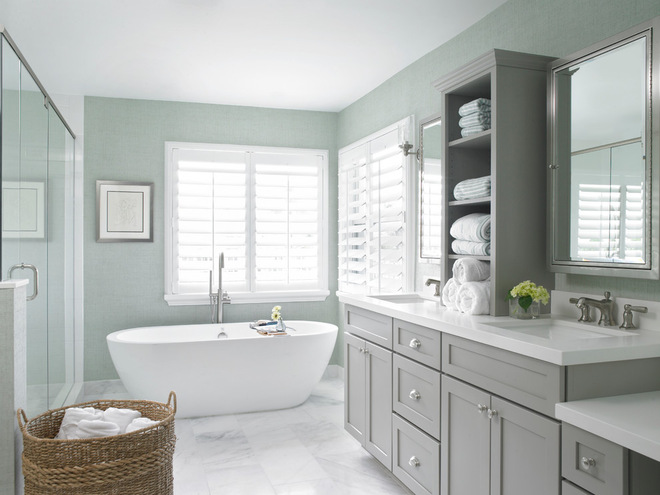 Free-standing bathtubs
Whether a classic claw-foot or a sculptural contemporary tub like this one, Clients loved the way these pieces stand on their own. They also create other design opportunities, such as interesting tub fillers that come up from the floor and the chance to add a stool, side table or bench.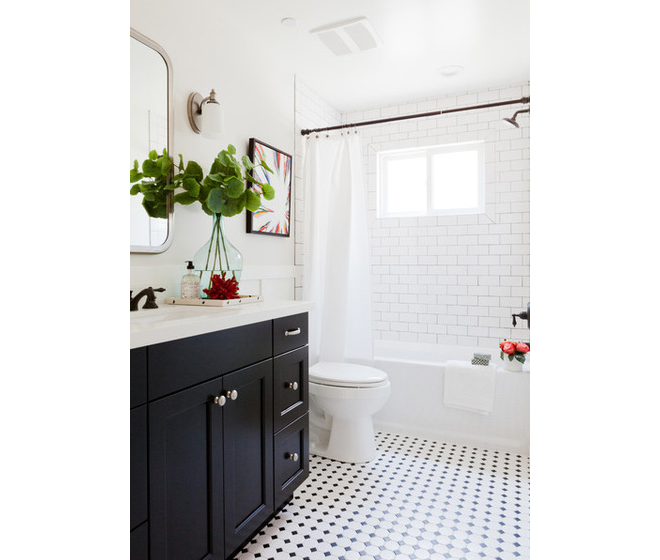 Subway tile
I'm sure this is not earth-shattering news to any of you. I wasn't sure it was possible, but subway tile was more popular than ever in 2015. However, it's not so much a trend as a classic. It goes with all kinds of styles, from vintage to industrial.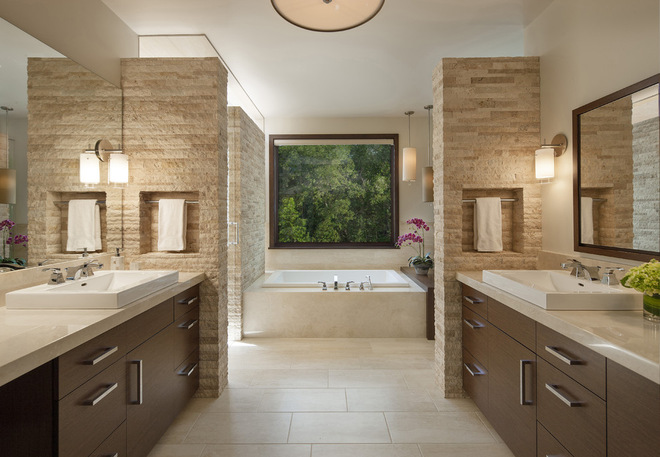 Rough stone
"Typically we associate smooth surfaces with bathrooms glass", marble, mirror, porcelain, polished metals and the like. But that's exactly why throwing in rougher natural textures has such a strong and pleasing effect.
Here, all the stone in the room is in similar colors. But the contrast comes from the finishes rough travertine up the walls, honed travertine on the floors and polished Crema Marfil marble on the countertops. The room is earthy yet elegant thanks to this beautiful balance.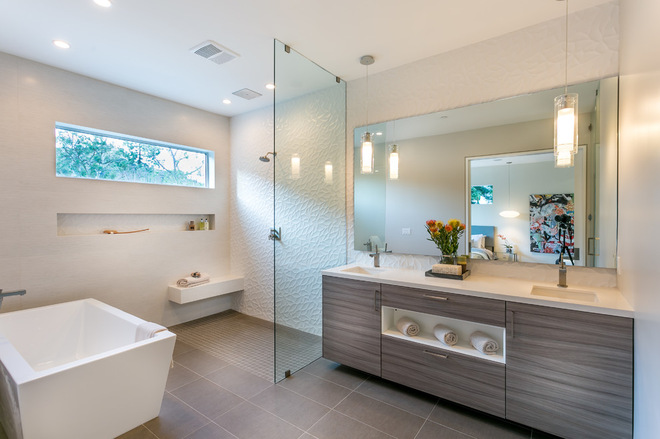 Textured tile
2015 continued the trend of interesting 3-D tiles in all sorts of patterns. These are a great way to add interest in a bath with a monochromatic scheme.