Though CARPETS have moved from hand-woven to machine-made, their poetry still manages to seduce the aesthetically inclined.
Developments in man-made fibers, loom widths and machine efficiencies changed the carpet from a luxurious floor adornment to an affordable one. Fashions for seamless square and then seamless close-cover carpets helped introduce wider looms.
Investigation into thermal and acoustical requirements led to wall-to-wall carpets in public buildings, shops and offices.
"Carpets have both aesthetic and functional uses. They create a cosy and comforting ambience with the added advantage of flexibility in customizing design and colour catering to different aesthetics. Functionally, it reduces the sound level as it is a very good acoustic material."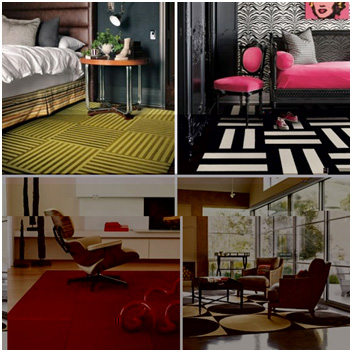 KINDS OF CARPETS:-
On the basis of appearance, carpets can be classified into loop-pile, cut-pile and cut-loop-pile carpets. They can be further classified according to the method of their creation as non-woven, woven, tufted and knotted. Again, They can be categorized as synthetic (acrylic fibers/ polypropylene/ artificial silk) or natural (silk/ woolen) on the basis of raw material used.
Carpet weaving as an art has been practiced for centuries in India, making it one of the main centres of its origin. Though carpet-making is still a small-scale industry, we manage to roll out a large amount of carpets every year. But the bulk of them seen in the market, especially in commercial applications, are of the imported tile variety. corporates, multiplexes and the hospitality industry continue to favour carpets for functional and aesthetic reasons, not to mention the economical pricing.

DETERMINING A GOOD CARPET:-
Pile weight Pile weight or face weight means the number of ounces of fiber per square yard or grams per square meter. A carpet with a heavier pile provides a superior performance and obviously costs more, since more fiber is used. Generally speaking, carpets with a higher pile weight are better.
Density Density also has a correlation with the pile thickness. It basically indicates how tightly the fibers are stitched into the carpet backing. Higher density carpets have better appearance and provide a more comfortable surface.
Twist Twist is the number of times per inch the fiber yarns are twisted together to form the strands. Obviously, a higher and tighter twisted carpet is more durable and resistant to crushing and matting. Twist can also affect the appearance of a carpet.
Durability Durability is a term for the resistance of material to loss of physical properties or appearance as a result of wear of dynamic operation. The most accurate and reliable measure of a carpet durability is to test it under actual foot traffic.
The traffic determines the type of carpet: polypropylene yarn-based carpets are appropriate for medium- traffic areas, while nylon carpets are recommended for heavier-traffic areas.
The weave of the carpet also determines their usage areas: cut-pile are suggested for residences, hotel guestrooms, banquet halls, etc. , whereas loop-pile and cut-loop carpets are better for commercial application.
Buy your carpets from a reputed establishment, check out warranties and other care instructions before purchase.
If your carpet is of cut-pile variety, see that it is well sheared and well imbibed in its backing. A loop-pile carpet must have a very even and standard looping.
Workmanship plays an important role. Co- ordinate with the carpet installer to ensure that he glues, cuts and finishes the edges of the carpet properly especially at the joints.
Coir underlay or foam sheets are usually laid below carpets for the plush feel. This also prolongs the life of the carpet.
Regular vacuuming and an occasional shampoo, depending on the area of use, should keep the carpet looking good and free from moths and insects. Scotch guard treatment is necessary in areas with higher chances of shilps or marks, e.g. restaurants, banquet halls, etc.
Place mats at entry points to prevent dust from getting lodged in the carpet.
Frequently rotate your carpet at 180 degrees to equalize the wear and tear.
Brushing the carpet with a soft brush on a regular basis can restore its crushed piles and thereby prevent abrasion.
Do not wash your carpets, as it will affect the durability.
Do not expose the carpet directly to sunlight to prevent fading.
Treat your carpet with a moth repellent (dried neem leaves, tobacco bark or naphthalene balls wrapped in muslin cloth can be used as anti-moth agents) Prior to storing it for a long time.
If you intend to put the carpet into storage, see that it is wrapped in a fabric (plastic is an emphatic no-no) so that the fibers can breathe.
Store the carpet in a dry, cool and ventilated place to avoid mildew or heat damage.
In case of a spill, wipe off the stain with a clean wet cloth and dry in indirect sunlight. Do not rub the spill, always blot from the outer edged towards the centre to prevent spreading.
Oil-based stains can be treated with dry cleaning solvents.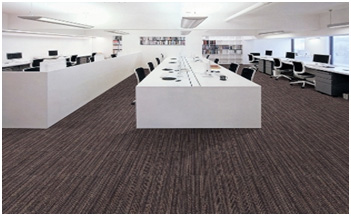 SUITABILITY
The visual pleasure of a beautiful floor covering is one thing but its suitability to the climate condition is another. Whether carpets really suit Indian conditions is a question one must consider before opting for this piece of floor art. "Synthetic carpets in particular are highly suitable for Indian conditions as they are durable, easily maintainable and have a wide range to suit the aesthetic preference of almost everybody."
Whatever the choice, be it area or wall-to-wall, hand-woven or machine- rendered, Persian Indian or Chinese, a carpet does add that extra bit to the decor of the room. And if walking barefoot is in Indian thing to do, then better do it on a bed of woven roses.